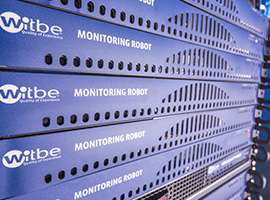 Enhanced OTT Video Monitoring: Witbe Moves Another Step Forward
Press Release | 8th October 2014
Enhanced OTT Video Monitoring: Witbe Moves Another Step Forward
Paris, 8th October 2014 — 
As OTT Video delivery becomes more and more important and shapes the future of television, Witbe, the Next Generation Test & Monitoring company, unveiled today a set of new features suited to the challenges operators and major broadcasters face.
Higher Performance
Market demand for new contents to be viewed online is skyrocketing. According to Digital TV Research, OTT business is expected to increase from M$793 in 2010 to B$6 in 2020, only in the US. Content providers have to publish hundreds of new assets each day to satisfy this urge. But under no circumstances, should this be at the cost of a lower Quality of Experience for the end-user.
Aiming at absorbing smoothly this increasing amount of streams and anticipating future escalations, Witbe's OTT Video Robots have been completely redesigned in order to reach top ranking performances. Supporting all the latest adaptive streaming technologies (HLS V5 multi audio and subtitle, smooth streaming 2.2, HDS) they now offer the highest capacity on the market: continuous monitoring of thousands of ABR profiles in parallel on one unit.
This product is available today, as physical appliances (Ethernet, Wifi, 3/4G, LTE attachments), or "in-the-cloud", as virtual machines.
Not just Data: relevant Information
Witbe also announces the release of its v9.0 Video Portal, featuring a brand new interface, entirely revisited. It was developed using asynchronous requests, allowing real-time display and enhanced scalability. Supporting hundreds of geographically widespread Witbe Robots, it offers the highest capacity on the market, with up to twenty thousand profiles in continuous monitoring and can store up to thirteen months of historical data.
"Witbe OTT Performance and Transport correlation view, included in our new Video Portal, is the first result of our program "Make the Data speak", that we launched earlier this year. Thanks to the Witbe awarded SmartPing® technology; we are now able to show what was before invisible: the CDN bottleneck, in full-OTT environment, and the root causes of IP transport problems. Designed with simplicity in mind, it provides an instant overview of the streams' routes and pinpoints congestion issues on any part the delivery network. A dream came true, Witbe made possible real Interdomain Responsibility" said Jean-Michel Planche, Co-founder and Senior VP Strategy & Innovation of Witbe.
About Witbe
Since 2000, Witbe offers an award winning approach to ensure the Quality of Experience actually being delivered to the end-users of any interactive service (telephony, video, Web, etc), on any device (PC, smartphone, set-top box, etc), and over any type of network (fixed, mobile, OTT, etc). Leading innovations in the QoE industry, Witbe boasts over 200 clients worldwide. National telecoms operators, cable operators, broadcasters, video content providers, set-top boxes manufacturers and iOS/Android apps developers, all rely on Witbe's measurements. Witbe has offices in Paris, New York, Montreal, and Singapore.