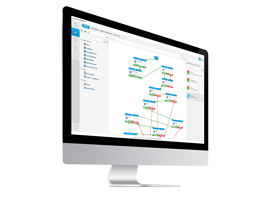 Meet the new Witbe Robots: more efficient & more accurate than ever
Press Release | September 9th, 2016
Meet the new Witbe Robots: more efficient & more accurate than ever
Amsterdam, September 9th, 2016 —
Witbe, the leader in Quality of Experience (QoE) Test and Monitoring, is proud to unveil today at the IBC Show three major innovations. Indeed, Witbe's offer just got better, with a more efficient and more accurate technology than ever. Not only is Witbe completely upgrading the capability of its main software and its robots, it is also now offering the industry's smallest all-in-one monitoring appliance. At IBC, on booth 5.A69, Witbe will be showcasing all of them: the Witbe Workbench Suite, the 24 Port Robots, the new 4K Robots and the Nano 3 Screen.
The brand new version of the Witbe Workbench Suite is going to be a game-changer, especially for the Witbe Robots. Indeed, Witbe is bringing the most advanced update for its 5th-generation Robots. This new version combines the capabilities of all different types of Witbe Robots, enabling them to test any device, indiscriminately. Set-Top-Boxes, Mobile Devices, Web Sites and Web Applications: the Witbe Robots can now monitor them all and deliver any necessary KPI. The forthcoming Witbe Workbench has more features in store, but this all-in-one evolution definitely brings on a unique flexibility: Witbe Robots are now able to run cross-devices campaigns from a single point of monitoring.
Operators and Broadcasters need to find adapted solutions for their rising monitoring demands, but it has a certain cost when it comes to infrastructure. With its new 24-Port Robots and the revamped 4K Robots, Witbe has the solution. Indeed, one single Witbe 24-Port Robots can monitor up to 24 devices. With the highest device density on the market, this appliance provides an extremely accurate and beyond-compare monitoring, for a significantly lower cost. As for the Witbe 4K Robot, it can now test two 4K Set-Top-Boxes on a single appliance. Fully compliant with latest industry standards, it enables any Provider to measure more efficiently their 4K services.
As Marie-Véronique Lacaze, Witbe's CEO & President, said: « With the creation of the 24-Port Robots and the upgrade of 4K Robots, the timing for the new version of Witbe Workbench could not be better. More powerful Robots, now all-in-one: our R&D Department worked hard and made every effort to meet the increasing need of our customers for monitoring resources. Let's take for instance our latest Nano 3 Screen. The impact of the new Witbe Workbench update has turned these Nano Robots into unrivaled all-in-one monitoring technology. Easy to setup and less expensive than most competing solutions, they feature the industry's smallest appliance to monitor OTT apps (webstreaming), Smartphones and STBs. They will enable a very tight QoE monitoring mesh for any Service Providers willing to precisely detect any service degradation.».
About Witbe
Since 2000, Witbe offers an award winning approach to ensure the Quality of Experience actually being delivered to the end-users of any interactive service (telephony, video, Web, etc), on any device (PC, smartphone, set-top box, etc), and over any type of network (fixed, mobile, OTT, etc). Leading innovations in the QoE industry, Witbe technologies have already been adopted by over 300 clients in 45 countries. National telecoms operators, cable operators, broadcasters, video content providers, set-top boxes manufacturers and iOS/Android apps developers, all rely on Witbe's measurements. Witbe has offices in Paris, New York, Denver, Montréal, and Singapore.