2015: 15 Years Pioneering Quality of Experience
4K video streams monitoring, Witbe Workbench, Witbe Remote Eye Controller, Witbe Earth, a brand new Witbe Portal… The features Witbe announced this year are way too numerous to be enumerated in such a small box. The good news is we've also completely redesigned our website to tell you all about them.
To celebrate our 15 years, we also edited new drawings of our initial ad campaign to illustrate important milestones in Witbe history. They are gathered in this page: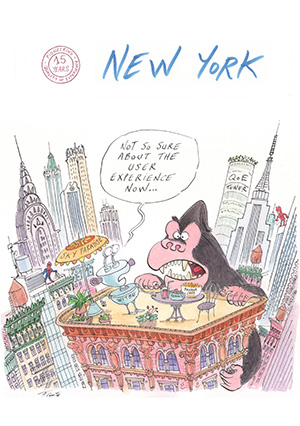 2014: Over the Top Monitoring Technologies
Over the Top, as a video stream delivery method, meant critical challenges for Operators, Broadcasters and Content Providers. In 2014, Witbe announced a new type of monitoring, focussing on OTT networks. It also announced a new version of the Smartping© algorithm, 13 years later. The combination of these two features led to an almost magic capability of the Witbe system: being able to locate any bottlenecks inside any CDN and giving control back to Operators, Broadcasters and Content Providers.
2012: Mobile means mobile
Following the Video Robots support of Companion Devices, the Voice and Data Robots evolved as well to monitor the quality of the new networks these new devices could connect to: 3G and 4G monitoring was real.
2011: This is a revolution
In order to test the quality of Any Service delivered on Any Device and following the Smartphone revolution, Witbe developed a way for its Video Robots to control Smartphones and Tablets. And suddenly, Witbe became compatible with a whole new categories of Devices.
2008: Truly HD-ready
With the apparition of HD video streams, the Witbe Video Robots naturally evolved to adapt to this new industry standard. This was the occasion to introduce the second generation of the MOS Algorithm, truly HD-ready, and still without any referential.
2006: Internet killed the Video star
Following the development of its Video Robots, Witbe announces new monitoring capabilities, focused on streaming. Some say the fact that Google also bought Youtube this year was not a coincidence.
2004: The year the TV turned IP
In order to adapt to the first generation of IPTV networks, Witbe unveils the third category of Witbe Robots, dedicated to Video monitoring. This year was also announced the first version of the Witbe MOS Algorithm, a revolutionary way to measure the true quality of any video stream. The MOS Algorithm not requiring any referential feed to run, "any video stream" truly meant any video stream, live or not.
2003: Mr. Watson -- come here -- I want to see you.
Witbe presents its second category of Witbe Robots, dedicated to Voice and Mobile Data monitoring.
2001: Please welcome the Screeneur du Net
In order to make the Telecommunications industry aware of the Quality of Experience importance, Witbe introduces the "Screeneur du Net", a friendly robot, in charge of W40: Witbe's Internet observatory.
November 2001: Witbe raises 6.7M€ to maintain its growth in Europe
2001: An Internet odyssey
In 2001, Witbe announces the Smartping© algorithm. The objective: identify whether the Network or the Service is responsible for service degradation, by measuring the true quality of the network between a Witbe Robot and any node of the Internet.
March 2000: Marie-Véronique Lacaze and Jean-Michel Planche create Witbe
At the Théâtre Mogador, in the 9th district of Paris, "Manu" finds a new job and Witbe starts to explain that it is hard time to look closer at the concept of "Quality of Experience" (French only):