FAST facts
FAST is an abbreviation for Free Ad-Supported Television. FAST channels operate like old-school television channels, showing content on a set schedule with regular ad breaks. They are free to watch and, unlike traditional television, streamed over the internet onto any device. The content shown ranges from live news and sports to original programming and licensed content. Some of the most popular FAST channels today include Freevee, Tubi, Pluto TV, The Roku Channel, Samsung TV Plus, fuboTV, Sling TV, and Xumo Play. Those FAST channels come with a lot of TV know-how, considering they are owned and operated by Amazon, Fox, Paramount, Roku, Samsung, Fubo, Dish Network, and Comcast, respectively.
In addition to the "Live TV" element, most FAST channels also include an "On Demand" section where viewers can select what they watch, just like a subscription-based streaming service. This content is also free with ad breaks, but it's technically not FAST—it's AVOD, or Advertising-based Video On Demand. Although they are separate structures, many customers expect both streaming models from FAST channels and may use the terms interchangeably. To learn more about testing AVOD services and other ad-based streaming media, take a look at our Ad Monitoring and Matching technology.
Ad it up
With their ad breaks, FAST channels bring viewers back to the days of "set it and forget it" Cable TV. Under the surface, however, there's a lot more going on to deliver those ads than Cable TV had to deal with. Ad breaks, or "ad pods", are not built into the content directly. Instead, they are triggered by SCTE 35 ad cues, which determine where to place pods within the content.
This means that FAST channels are navigating several complex technical challenges just to operate. The content is being pulled from different sources, the online stream is being created, the video player is interacting with the SCTE 35 technology, and the third-party provided ads are being dynamically inserted into the ad pods. For viewers at home to "set it and forget it", a whole lot has to go right behind the scenes.

First impressions matter
FAST channel providers rely on revenue from "ad impressions", meaning how many viewers see an ad that a third-party provider paid to run. Unfortunately, those ads don't always run as expected. Witbe's independent tests have measured that on some FAST channels, up to 30% of viewing sessions had an issue with the ads.
Sometimes an ad will stop to buffer and then completely freeze. Sometimes an ad starts playing at a completely different volume or picture quality than the content. Sometimes the ad pods just completely crash the stream or even make the device itself reboot.
Sometimes an ad doesn't even play. Instead, a blank screen called an "ad slate" plays. Ad slates can be completely static—think the "we'll be right back" image on old-school television—or feature a clock counting down the time left in the slate. At worst, they can be completely blank.
If a viewer experiences an ad issue—or thinks they are experiencing one when they see a black screen ad slate—they are quick to leave the FAST channel and switch to a competitor's stream, leaving one less household to include in current and future ad impressions. When ad insertion issues are happening 30% of the time, how can FAST channels stop them?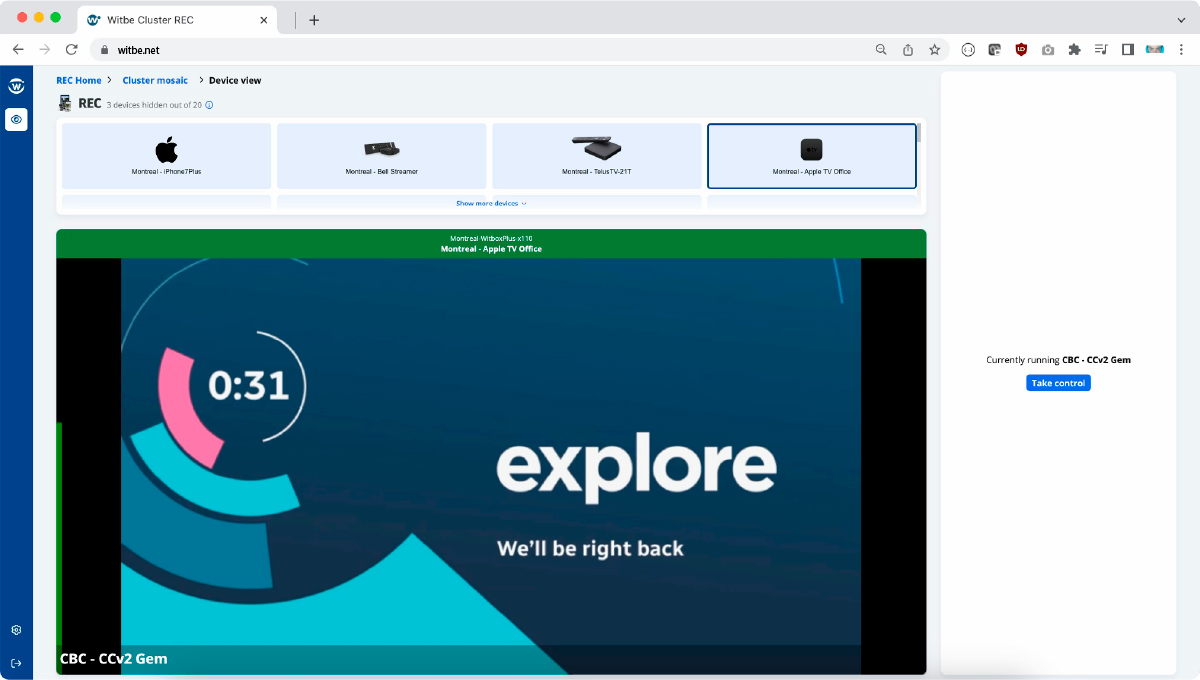 Verification is key
As we've written about before, the only way to improve performance is by understanding it. Like all OTT streaming, the only way to truly measure the FAST channel performance that users receive at home is by testing on the same apps, devices, and networks that viewers are using every day. FAST channels can be viewed on consumer devices including Set-Top Boxes, Apple TV, Amazon Fire TV, Android TV, iOS devices and tablets, Android mobile devices and tablets, Smart TVs, gaming consoles, and many more—all of which Witbe can test.
For many FAST channel providers, monitoring alone isn't even enough. They need recorded proof of ad performance to verify with advertisers. To confirm the ad impressions received, they need recorded proof of the ads and slates that were delivered to viewers. For monitoring and verification, Witbe is here to help.
The Witbe way
Witbe's new FAST channel testing technology can automatically monitor ad performance for Live and On Demand content. Witbe's technology tests and monitors real, physical devices, since that is the only way to experience the performance and errors that customers are receiving at home. Here are some of the Key Performance Indicators that we can measure on real devices while monitoring FAST channel ad insertion:
If the ad plays
Video quality of the ad, compared to the content
Audio loudness of the ad, compared to the content
Duration of the ad
Ratio of filled ads to slates
Duration of slates
If slates feature any motion to keep viewers active
With the results from these tests, Witbe's Smartgate software delivers personalized reports focused on the most important KPIs to FAST channel providers. It takes the raw data and transforms it into streamlined analysis, perfect for better understanding and presenting the true Quality of Experience received by FAST channel viewers.

The extra mile
We don't just monitor ad breaks, either. We provide video recordings as proof of them for advertisers. All of our testing is captured on actual consumer end-user devices, so you know exactly what ads and slates were delivered to viewers at home. Since FAST channel operators cannot control the devices or networks their customers are watching on, this is the only real way to verify ad performance.
We've even developed a dynamic channel cycling technology to help keep monitoring cost-efficient. With it, multiple FAST channels can be monitored without having to purchase a separate dedicated testing device for every single channel. Plus, with Witbe's remote device access technology, all of that can be accomplished from anywhere in the world.

Cruise through the FAST lane
For FAST channel providers, ad pods filled with slates—or even worse, blank screens or stream crashes—means money left on the table. It has a negative impact on ad impressions, user retention, and revenue. Every time an ad insertion issue strikes, it marks a step further away from the ultimate goal: delivering a smooth viewing experience to the end-user.
Monitoring ad performance on the same devices and networks that viewers use enables FAST channel providers to measure true ad performance and deliver superior service to viewers and advertisers alike. With automatically detected slates, video recordings to keep, and personalized data reports on KPIs, Witbe is here to ensure your ad breaks are filled with dynamic ads and not blank slates. FAST channels aren't easy, but we're here to make them a little bit simpler.