Ad-supported streaming video
While subscription-based video services seemed like the media industry's streaming focus for many years, ad-supported video has recently stepped into the spotlight. Ad-based streaming services like Freevee, Pluto TV, and The Roku Channel have gained popularity and critical recognition with Emmy nominations for their original content. FAST channels, streaming on a set schedule with ads, have taken viewers back to a comfort zone of traditional TV. Some of the most popular online video services, from YouTube to TikTok, run with ads. Peacock launched in 2020 with an ad-supported subscription option, and fellow top streamers Netflix, Max, and Disney Plus have recently joined them in offering the less expensive tier. There's only one problem: those ads don't always run well.
How to monitor dynamic ad insertion
Player-side dynamic ad insertion often relies on SCTE 35 ad cues. These cues are inserted into streaming content to trigger ads when the video player reaches them. Since the ads may come from a different origin server or video provider than the content being streamed, they often have noticeable performance issues. Witbe's own independent research has observed that up to 30% of online viewing sessions are affected by an error caused by dynamic ad insertion. These issues include significant buffering before and during ads, ads playing at a completely different volume or picture quality than the content they're interrupting, and ads repeating multiple times, aggravating viewers instead of selling their intended products.
Witbe's Ad Monitoring and Matching technology addresses this problem by automatically monitoring performance for video services worldwide. Witbe tests and monitors real, physical devices to measure the true performance that viewers receive at home. This approach is essential, since many issues recorded on real devices cannot be detected with other monitoring techniques. Monitoring on real devices leads to an accurate report on the most important Key Performance Indicators for ad-supported service providers, including whether the ad actually plays, the video quality and audio loudness of the ad compared to the content, the amount of buffering before and during the ad, whether any slates fill the ad breaks, and more.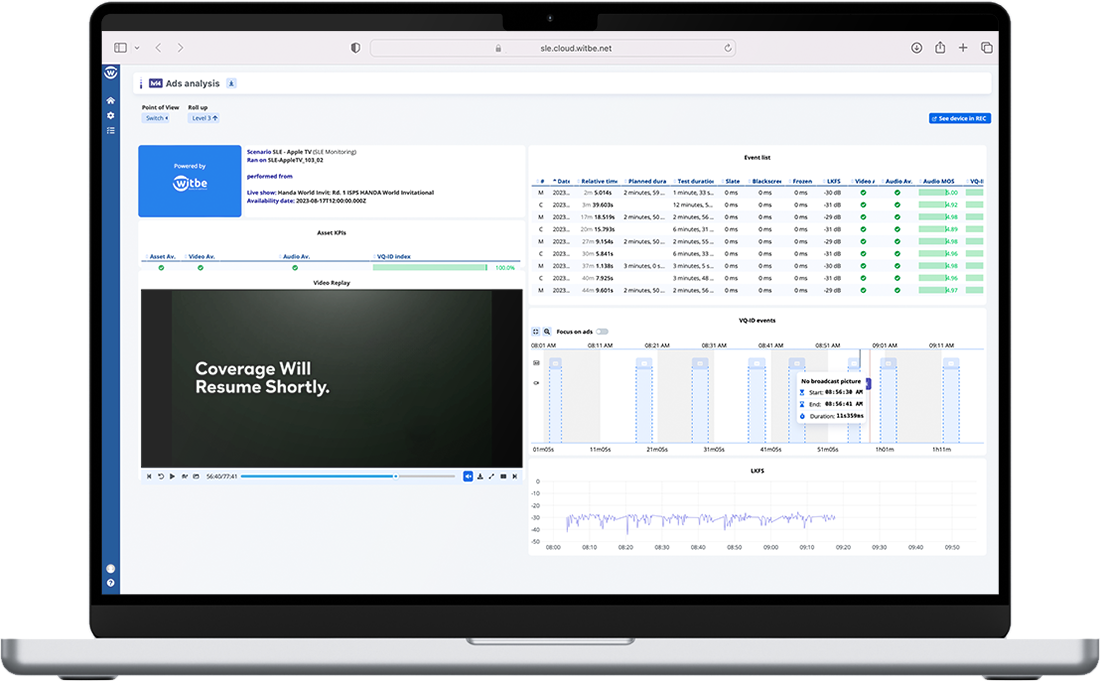 Ad Matching and video recordings
Witbe's Ad Monitoring technology provides unique value by offering video recordings as proof of ad delivery, allowing providers to secure ad revenue when third-party advertisers request it. Since advertising revenue makes up a majority of most provider's income, this distinct feature offers an indispensable way to secure it. Witbe's new Ad Matching feature achieves this by identifying every time an ad appears in a viewing session, allowing advertisers to verify when and where their ad played, if it was on time as scheduled, and how often it repeated. Verification is key when it comes to measuring service quality, and these features provide reliable verification that can be accessed whenever needed.
Best Video Advertising Solution Award
Winners for the 15th annual Streaming Media European Innovation Awards were announced on August 21, 2023. The awards were selected by more than 1,500 voters, evaluating the best products in thirteen different categories. Witbe's Ad Monitoring technology, which builds on our earlier FAST channel ad insertion monitoring technology to cover all forms of ad-supported video, was awarded the top prize in the Best Video Advertising Solution category.
Witbe was honored by the award and its recognition of our commitment to being on the cutting edge of the technological needs of video service providers around the globe. Introducing our Ad Monitoring and Matching technology to the world alongside a Streaming Media award signals the confidence and excitement we have in its capabilities.
Additional support from the Witbe Software Suite
Witbe's Software Suite also includes Smartgate, which works in conjunction with the company's Ad Monitoring technology to deliver personalized reports to providers. Smartgate takes the raw data from monitoring sessions and organizes it into streamlined analysis reports that can easily be responded to. The reliable Remote Eye Controller, which was also recognized at the Streaming Media Awards as a runner-up for Best Quality of Experience platform, allows providers to access their local testing devices from anywhere in the world. This ensures that remote teams can evaluate ad performance collaboratively no matter where they are or what device they're working from. Together, the Witbe Software Suite provides a full-featured tool kit for video service providers.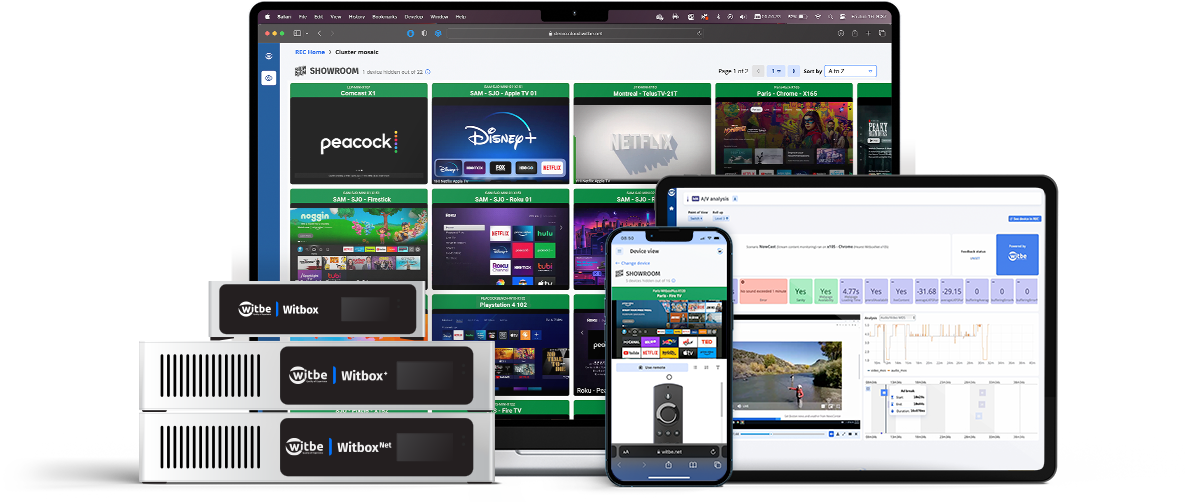 Measure the true performance of dynamic ad insertion
Witbe's Ad Monitoring and Matching technology is available now, alongside the Witbe Software Suite and the entire line of Witbox products. For all video providers whose budget relies on revenue from dynamically inserted ads, the new technology is essential. It helps improve streaming quality and performance for providers, customers, and advertisers alike, recording proof of ad delivery for verification and ensuring a bright future for ad-based video.
To learn more about Witbe's Ad Monitoring and Matching technology, contact us today!