On October 4th, 2023, Witbe's Remote Eye Controller was recognized by Broadband Technology Report's 2023 Diamond Technology Reviews. The software application was awarded a rating of "4 Diamonds" in the Reviews' Monitoring and Analysis category. The prolific Diamond Technology Reviews recognize the top products available to the cable industry, as determined by a panel of telecommunications engineering experts. In 2022, Witbe's powerful Witbox+ was also recognized.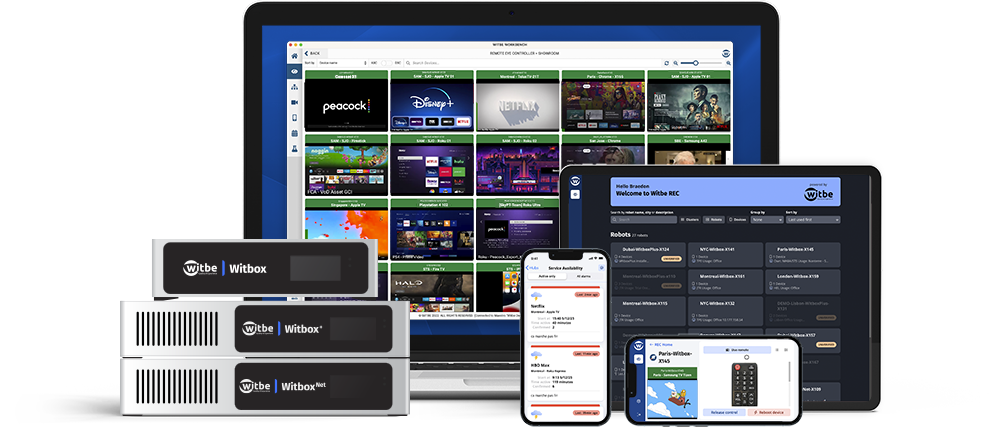 The Remote Eye Controller allows teams to access and control their real testing devices from anywhere in the world. The software remotely displays live and on demand content from real devices connected to a Witbox in the field, enabling teams to measure the true service performance received by viewers at home. It eliminates the need for engineers to physically travel to assess a malfunctioning device, and provides remote teams with a unified virtual workspace. The REC is accessible through any modern web browser, including on mobile devices and tablets.
As Witbe wrote in their summary, "Today's viewers expect their streaming services to work flawlessly everywhere they go — on whichever device they are using at that time — and that their chosen service providers are everywhere at once to make sure that they do. Witbe's Remote Eye Controller application offers service providers that ability."
"On behalf of the Broadband Technology Report's 2023 Diamond Technology Reviews, I would like to congratulate Witbe on their 4 Diamonds honoree status," commented Broadband Technology Report's Editorial Director, Sean Buckley. "This program recognizes and rewards the top products and solutions available to the broadband cable industry. We appreciate all entries we receive, though not all were honored with 3.5 Diamonds or above."
Witbe was honored to receive the high rating and recognition of the REC's value to video service providers around the world. It is available now as part of the Witbe Software Suite. To learn more about the Remote Eye Controller and the rest of Witbe's automated testing and proactive monitoring technology, contact us today.