Witbe Technologies for Multiscreen and Multi-Devices Video Monitoring
Regain control over the Quality of your Video Services on any Device and through any Network
Maintaining Quality on fragmented types of End-Users' devices has become increasingly challenging. Your End-Users want the same contents & services, with the same Quality, wherever they are, whatever devices they hold. Your reputation is at stake, while your best effort must be at work for many reasons. The profiles you must support are indeed numerous. Furthermore, you do not necessarily own the delivering networks nor the devices. And even if you does, ensuring the same Quality on multiple devices implies shared Quality KPIs, and therefore identical measurement methods for every devices.
To help you to beat the odds, Witbe has developed a specific Technology, based on an unconventional approach. Analyzing in real-time the Availability, the Quality and the Performance of your Video Services as truly perceived by your End-Users, it ensures the success of your Video Delivery to any device, on any network.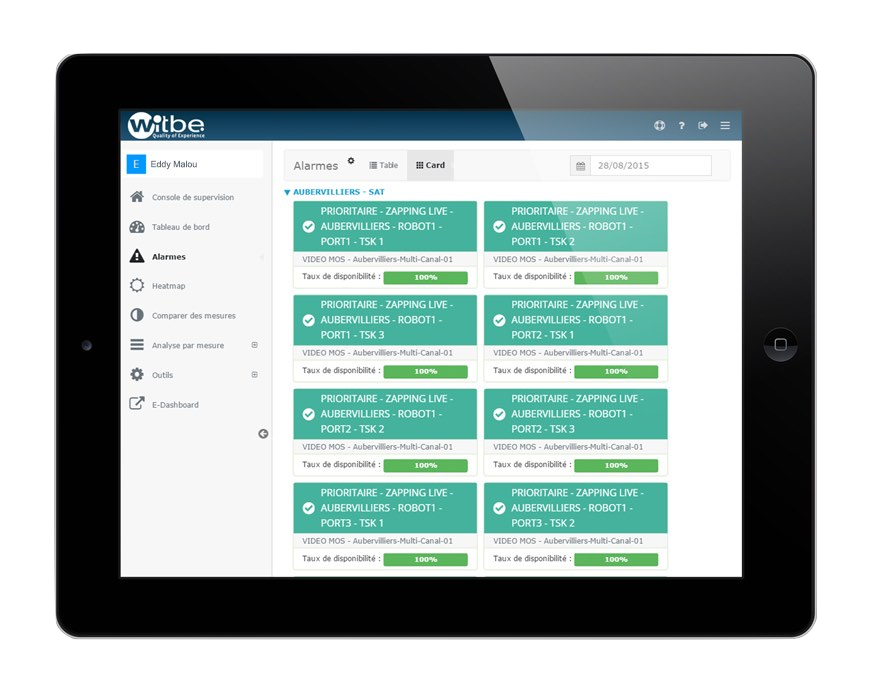 Your top-priority: control the availability of your Service, any time, on any device
First things first: the real-time Alerting System developed by Witbe allows you a 24/7 access monitoring of your Services from an End-Users point of view. Running nonstop Availability tests on a Post-Device Appliance, the Witbe Robots detect immediately any issues that could seriously damage your Quality of Service: frozen screen, black screen, no sound, system errors messages, loop, etc…
As soon as an issues is detected and confirmed by additional tests, a relevant alert is sent to your teams through SMS, Email, or SNMP Traps, enabling you to fix the problem and to prevent any users' complaints.
Monitor what matters: the perception of the Quality by your End-Users, on any device
The Witbe Technology focuses on the bottom line: the End-Users' perception of your Service. With the same methods for any devices (for unbiased comparisons), the Witbe Robots emulate the End-Users' perception of your contents, on the Post-Device level—the very last meters of your delivery. Analyzing the videos streams in real time, the Witbe Robots detects all the artefacts deteriorating the Experience, on any devices: blockiness, blurriness, and jerkiness. The results of this real-time Monitoring are reported as a Mean Opinion Score into a web-based Portal. It provides your teams with Quality KPIs common to all your End-Users' devices, and a unique comparison feature to monitor your Services, whatever the devices they are delivered on, whatever the network they are delivered through.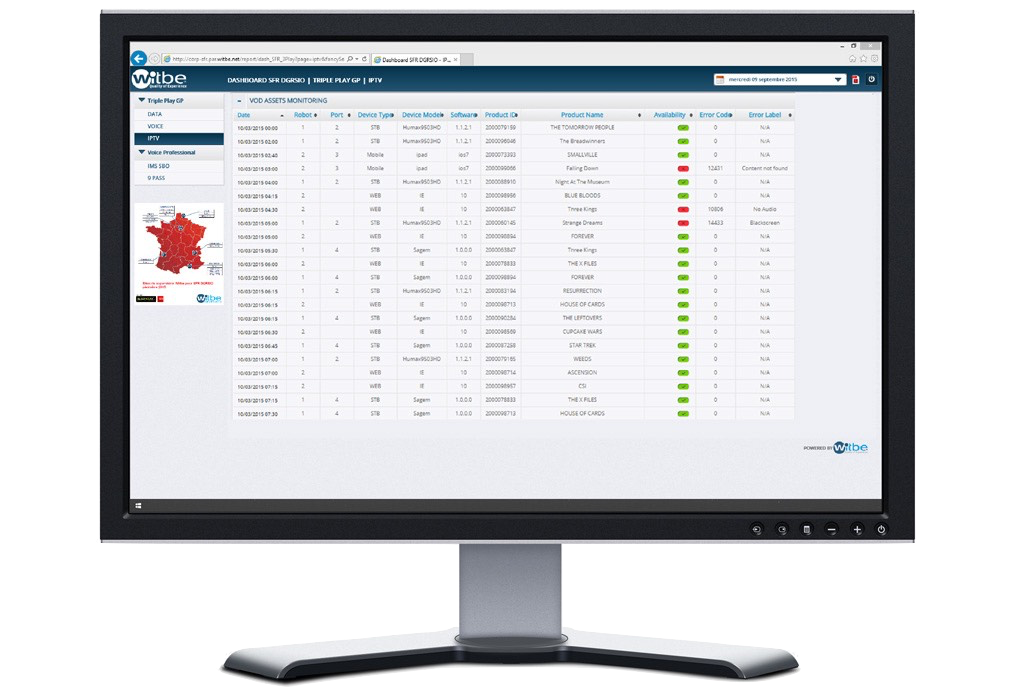 Ensure stable, consistent, and shared performance on any device
Your Videos streams may be flawless, your reputation will suffer from long access time, channel switch excessive delay, unavailable VoD platform. Completing the perceptual analysis, the Witbe Robots run scenarised End-Users' patterns of actions, reporting the main standard's (TR-160) recommended KPIs to your customized dashboards. You can now ensure the same performance on all your End-Users' devices, and benefit from the comparison feature to focus your investment on real issues. The Witbe Technology allows you to monitor in real-time the service access time, the channel switching time and their availability, your VoD platforms access time & success ratio, etc…