San Francisco, United States – March 15th, 2022 – Witbe (Euronext Growth - FR0013143872 - ALWIT), the leader in Quality of Experience (QoE) monitoring, announces today the launch of two new Witbox models: the Witbox+ and the WitboxNet. The original Witbox, now called WitboxOne, was a success for the group in 2021, thanks to its compact design—allowing for easily deployed remote testing—and future-proof capabilities. Building upon these two core advantages, the group focused on making these aspects even better for the Witbox+ and the WitboxNet, in order to add even more scalability and even more types of devices to test.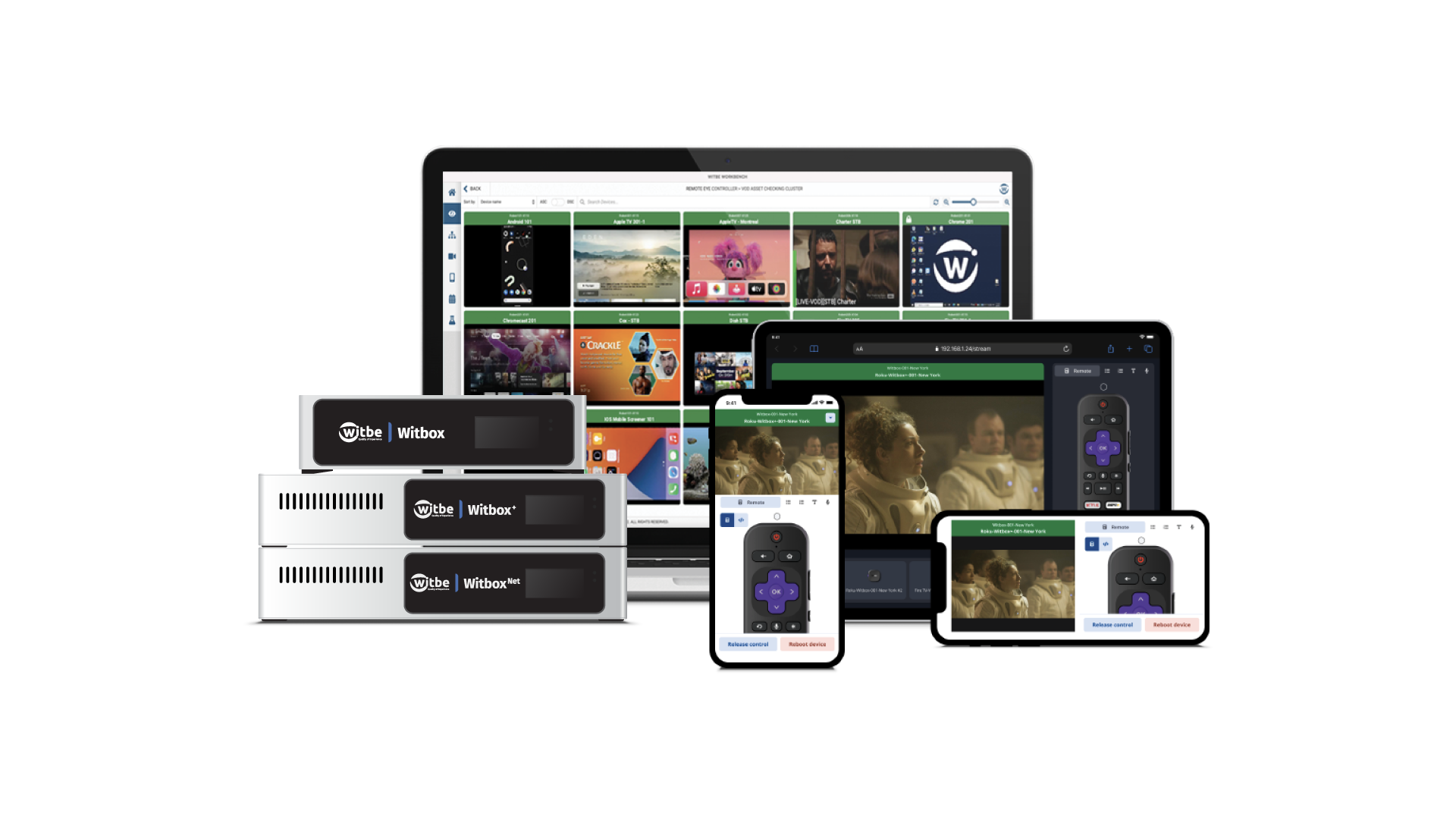 The Witbox+ focuses on scalability by allowing test engineers to connect and control 8 times more 4K devices in the same amount of space. In addition to the 4K video and 5.1 surround sound support, the Witbox+ is also future-proof because of its Bluetooth and RF4CE control capabilities. These features allow the Witbox+ to support any video consumer device (Set-top Box, Smart TV, iPhone, Android, Apple TV, Fire TV, Roku, or any other OTT device), to perform remote monitoring, test automation, and even run real-time video and audio quality algorithms, on all of those devices in parallel. This makes the Witbox+ the most compact and the most powerful test automation robot of the market—and a true technical prowess.
The WitboxNet focuses on web testing by allowing technology companies to test any kind of web service. It can connect to the Internet using WiFi 6E, the latest WiFi standard available, or a 2.5Gbps Ethernet port, in order to support the most advanced web and gateway testing capabilities. WitboxNet also comes embedded with the full power of the Witbe technologies, allowing web streaming companies to perform remote monitoring and run real-time video and audio quality algorithms on any type of content.
With the WitboxOne, the Witbox+, and the WitboxNet, Witbe now has a complete Witbox lineup, offering the most competitive solution on the market, with a truly unique approach. This new robot lineup was also designed to be extremely energy efficient, allowing technology companies to perform their testing and monitoring while being more environmentally friendly.
"I am thrilled to announce today these new Witbox models, a major technical milestone for us as a team," comments Mathieu Planche, Witbe CEO. "With the Witbox lineup now complete, Witbe turns another page of its history, where our hardware appliances reach the same level of quality and care that our software products have been known for, for all these years. As we ship our first batch of Witbox+, I am excited to hear our customers' thoughts, but know these new Witbox models will be received with the same enthusiasm as our first Witbox."
The WitboxOne was already the best Slingbox alternative; these two new models are going to take you even further!