Slingbox end-of-life has been officially announced back in 2020. On November 9th, 2022, it will come into effect and every Slingbox will simply… shut down. Fear not! If you're a business that was using Slingbox to remotely control your set-top boxes in the field, you've just found the best alternative: the Witbox!
For over twenty years, Witbe has been trusted by companies worldwide as the leader in Quality of Experience testing and monitoring. Witbe's revolutionary technology can measure any digital service, running on any device, through any network. It tests real, physical devices, and interacts with video streaming services exactly like human users do. Today, Witbe's technology is used by QA and operations teams across fifty different countries to test and monitor video streaming through Cable, IPTV, OTT, SvOD, Avod FAST, and many more networks. Witbe ensures that customers are receiving the best possible digital service at any given moment!
Why is the Witbox the perfect Slingbox alternative?
Witbox is already a beloved Slingbox alternative for dozens of our customers.
We made it super easy to replace a Slingbox with a Witbox for your field techs.
Witbox is an enterprise-grade product, natively capable of securely handling hundreds of users.
If you only need remote-control technology, the Witbox is already a more powerful alternative to Slingbox.
If you want to do more than remote control, you won't find better on the market.
If you're already convinced and would like to see a free demo, contact us here! If you aren't yet, read on, we promise you will be.
You're going to wish you had found this Slingbox alternative earlier!
The Witbox is "slick, easy to use, [we] wished it was around ten years ago". When it was released back in 2021, the Witbox was instantly met with a lot of enthusiasm, and this is the spontaneous feedback we received from one of our customers, after he deployed a hundred Witbox.
100% field-proven and loved by our customers, the Witbox is the result of 20 years of experience in the testing and monitoring industry and will be part of our flagship portfolio for 20 years to come. Choosing the Witbox as an alternative for your current Slingbox deployment is the promise of deploying a fully maintained technology, and not being the only one doing so.
Here's a video on how easy it is to replace your Slingbox with a Witbox:
Easy-to-setup and designed for companies
As a business, we know that you potentially have hundreds—if not thousands—of devices connected to Slingbox. We also know your field techs are fully trained and know how to change a defective Slingbox in a matter of minutes. That's why we made the physical installation of a Witbox as easy as the physical installation of a Slingbox. With its plug-and-play design, just get it out of the box, connect your STB to the Witbox, connect the Witbox to the Internet (you only need a standard outbound HTTPS connection), and you are done.
The configuration and registration of the Witbox will then automatically happen, and after a few minutes you will be able to access your devices from anywhere in the world—through your Cloud Witbe Hub. Forget exchanging IP addresses and individual Slingbox passwords in emails: with the Witbox, all of that happens automatically and in a secure environment, with end-to-end encryption and strong user authentication through SSO.
Put an end to these Slingbox end-of-life migration nightmares!
Because of our experience working with most of the major operators on the planet, we know how complicated it is to have to replace all of your Slingboxes. A prominent telecommunication company came to us dreading having to replace their 1,500 Slingboxes scattered in the field... But their frown turned upside down once they experienced how easy setting up a Witbox was—and how much more they could achieve with our technologies.
When combined with our Remote Eye Controller (REC), the Witbox reveals its true power and shows how it's so much more than just a Slingbox alternative. Launch the REC on your computer and immediately find all of the real devices (STB, mobile, Smart TV) connected to all your Witbox, ready to be accessed and controlled. You are now back in a position to test the quality of your services from anywhere, even when stuck at home.
Our customers love the REC, because it does all they expect of a Slingbox alternative—and so much more:
monitor all your devices on the same mosaic screen, even when they are scattered across several locations;
control multiple STB at once thanks to the REC's cluster control feature;
tune to a channel on a STB simply by searching for the channel's name;
input text on a STB keyboard as easy as if you were typing on your laptop thanks to our automatic keyboard navigation algorithm; and
even more to come!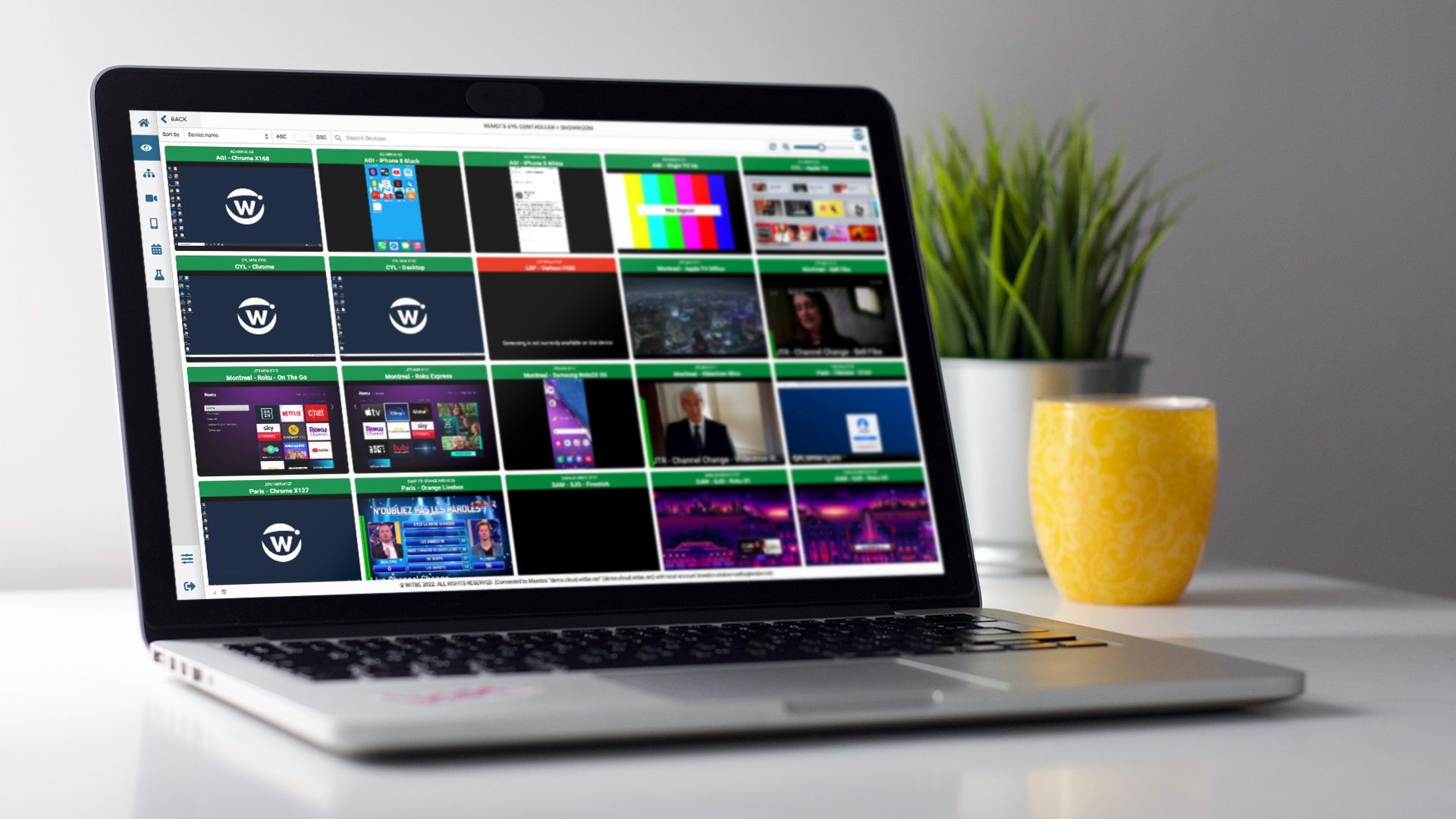 To find out more about what the REC can do check out this article, or contact us for a free demo.
Prepared for the future!
With its fully integrated design, the Witbox does so much more than a Slingbox or any other Slingbox alternative out there. Contrary to the Slingbox—which will stop working in a few months—the Witbox is 100% future-proof. Getting ready to roll out that fancy 4K, surround sound STB you've been working on for several months? The Witbox is compatible with any 4K HDR stream, up to 60fps, and supports up to 5.1 audio. What about your Bluetooth remote? Our Witbox comes embedded with an IR controller, a Bluetooth controller, and an RF4CE/Zigbee controller, allowing you to control any type of STB, OTT boxes, gaming consoles, and even Smart TVs as if you were in front of your TV! And because we didn't just stop there, the Witbox is also capable of voice controlling any supported STB! Wherever the video industry wants to take us, the Witbox is ready to accompany you along the way!
The best part about this is that remote testing is only the tip of the Witbox iceberg. Manual remote control is great when you have people in front of a screen, but what happens when your engineers are sleeping or on holidays? Do you really want your customers to have to call support in the middle of the night? The Witbox comes loaded with everything it needs to automatically test and monitor any of your video content, 24/7. Have your engineers leave the office with peace of mind; they will receive an expert-made report in the morning, containing all of the information they need to understand what happened overnight.
Let's wrap it up! If you're a business looking for a Slingbox alternative to continue to access your devices from anywhere, grab a Witbox; you'll be able to do so much more. But hurry up, Slingbox end-of-life date is almost upon us!