Leave the hard stuff to us.
Improve QA testing with automation

Time is the most valuable resource in QA testing, which is where Witbe's test automation technology can help your team. Our technology can automate the non-regression test campaigns your team were running manually before, leaving you free to focus on other work that requires more attention. It's like adding another coworker to your team, except this one doesn't get sick or take days off. With trusted test automation technology, time is on your side again.

Reliable performance testing

Your end-users are going to push your streaming video software in ways that are difficult to predict. The best way to catch these bugs in advance is through endurance, performance, and stress testing. These are the kinds of tests you can't ask a human team member to do, like pressing a button every minute for 24 hours in a row. Witbe's AI-powered test automation technology can handle it while measuring your KPIs and evaluating how they hold up over time and under pressure.

Testing in the field

Testing in the lab doesn't quite account for all the ways that your customers will push your video service once it's available in the field. That's why Witbe's test automation technology lets you remotely test your video service on the real devices and in the real locations where it will be running after you launch. You can even test devices located in another country from the comfort of your own home. Testing in the field no longer requires a thousand-mile drive to the countryside, as scenic as it was.

All devices welcome

Witbe's automated testing technology interacts directly with the real, physical devices that run your software. All you need to do to get started is plug the device into one of our Witbox products. All devices are supported: OTT, Web-based, iOS and Android mobile, Smart TVs, gaming consoles, and many more. Our cross-device technology can test at 4K 60fps on dozens of platforms simultaneously. No additional set-up required, no device left behind.

Immediate and long-term benefits

Partnering with Witbe for your QA test automation capabilities gives you access to our wealth of technology and decades of experience. Our products are built to handle the complexities of testing many unique devices at once, with accessibility and ease of use as a top priority. Choosing Witbe offers immediate benefits and long-term savings over starting from scratch with an internal or open-source automated testing plan.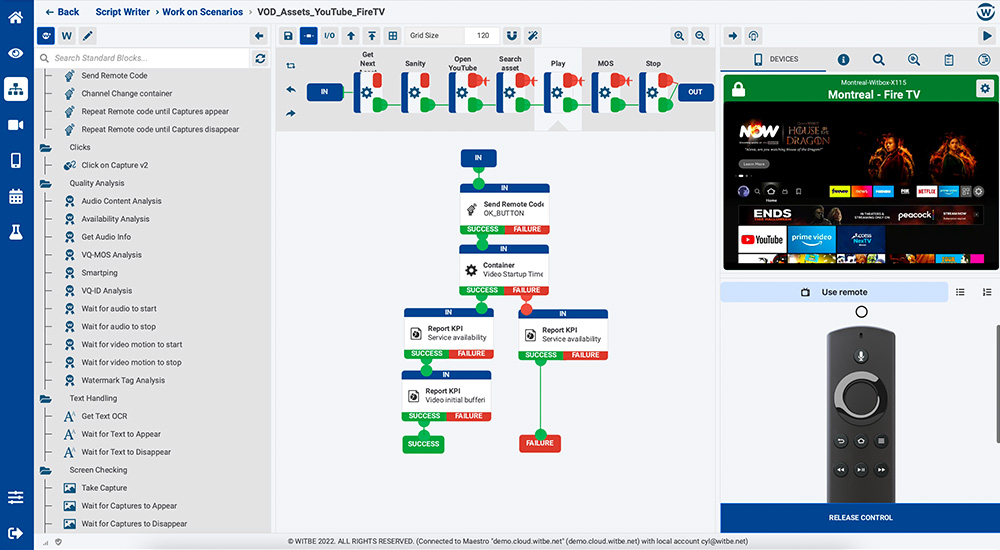 Discover our QA test automation products
Are you ready to put your focus where it matters most?