Make the world your workspace.
Skip the long drive

Witbe can save teams time and money by eliminating the need to send an engineer thousands of miles away to test a malfunctioning Set-Top Box. Instead, just deploy the Remote Eye Controller, our remote device access software, and you can test it immediately from anywhere in the world. We really mean "anywhere" – Witbe's technology works across country lines and over continent borders. Just plug your testing device into a Witbox to be remotely access, control, and test it.

All devices supported

Witbe's remote device access technology can help with everything from comparing video service performance in different cities to testing in multiple countries simultaneously for a new launch. Just plug any video streaming device – like a Set-Top Box, OTT device, Smart TV, mobile device, gaming console, or web browser – into your Witbox to begin automatically testing it. Witbe can even handle deploying the testing devices anywhere you need them with Witbe Cloud Devices.

Access every device from anywhere

Outages always seem to happen at 4am on a Saturday morning, when it is least convenient for your team. That's why we designed the Remote Eye Controller to be accessible directly from your favorite web browser. This allows teams to access their test devices from any device they have handy when they need it, including their mobile or tablet devices. Our remote device access technology helps teams work where they are, even in unexpected circumstances.

Stay proactive with channel testing

Ready to do more with your Witbox than just remotely control your testing devices? Add Witbe's Live TV monitoring option to stay proactive about your service availability. With Live TV monitoring, our technology can automatically report on the availability and performance of your live TV channels as they are being broadcast out. You can hear immediately whenever your service is interrupted, and remotely access your test devices to confirm the issue from anywhere in the world.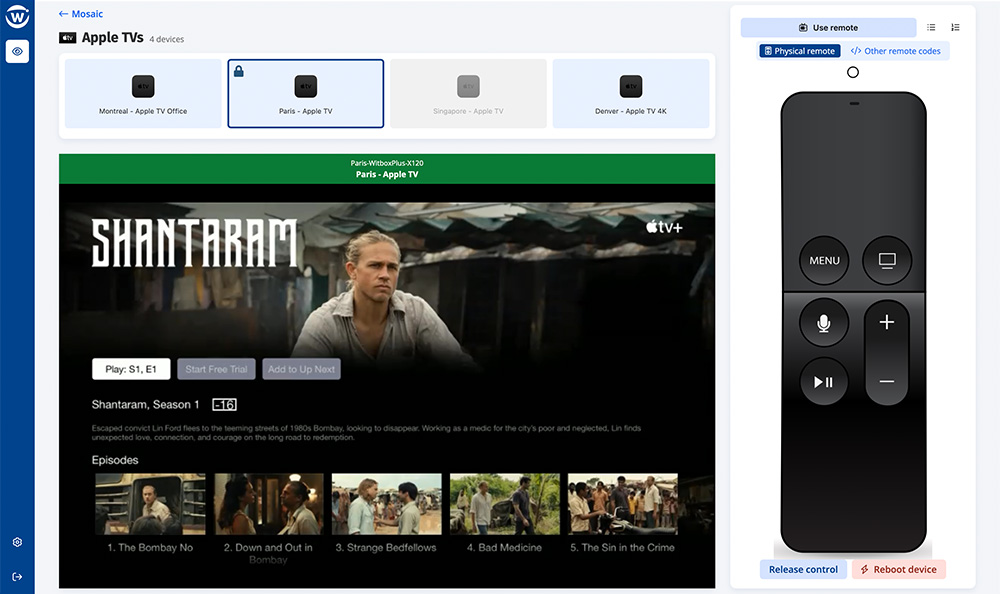 Discover our Remote device access products
Are you ready to make the world your workspace?