Find issues before your customers do.
Built for Video Operations teams

Video Operations teams know the pressure to respond to a service interruption quickly. Service availability can be affected by everything from technological bugs that slipped through QA to power outages or network issues in the field. Witbe's video service monitoring technology was designed to help quickly alerts teams when service gets interrupted or dips in quality. Our technology empowers Video Operations teams to address issues as efficiently as possible as soon they develop.

Get real-time alerts

Witbe's Smartgate software uses our proactive monitoring technology to send real-time alerts whenever your service quality dips or gets interrupted. These immediate alerts help teams begin work on resolving issues before customer complaints even start to roll in. Smartgate even sends alerts in whatever format is most convenient for the team, including over email, Slack message, iOS push notification, or HTTP POST. No more worrying on your days off.

Identify the issue immediately

In addition to real-time alerts, Smartgate displays the video traces of the service interruption recorded by the Witbox that noticed it. These videos help identify the specific issue that is causing the interruption, as well as how widespread the issue is. With a full set of test devices in the field, you can immediately identify which markets are being affected and which are not. Our video trace alerts can help you identify the issue that is interrupting your service as soon as you learn about it.

Cut your response time in half

After you've received an alert that your service was interrupted and viewed the video traces, the next step is to manually confirm the issue. With Witbe's Remote Eye Controller software, you can remotely access your testing devices from anywhere in the world. This empowers Video Operations teams to quickly identify what issue is affecting their service and which areas are being affected, effectively cutting the Incident Response Time in half and letting work on resolving the problem begin.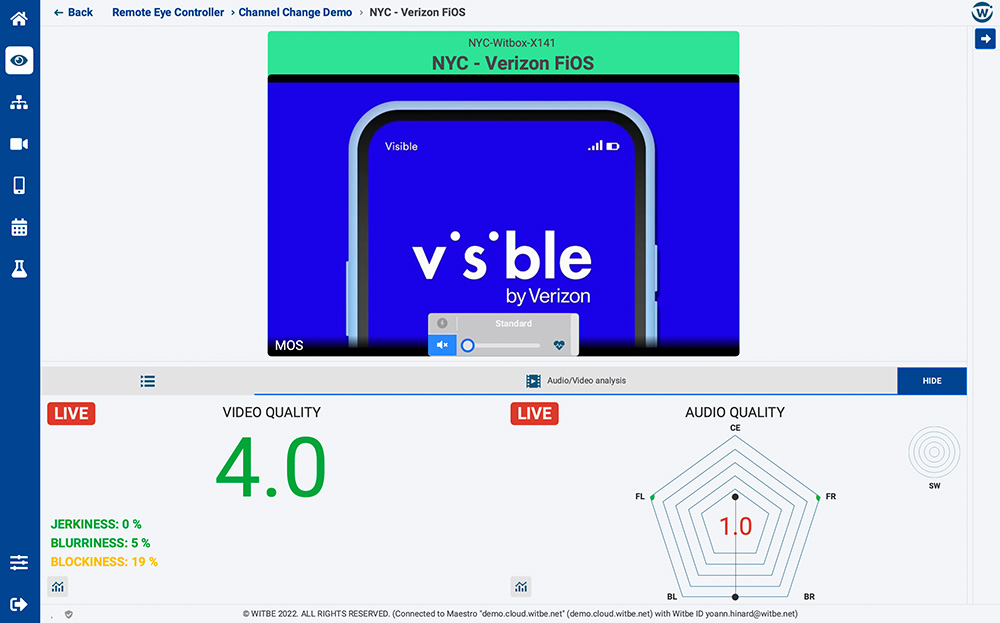 Discover our Video service monitoring products
Are you ready to find out about problems before your customers do?